You made all three Winemakers Fantasies come true!
Thank you, Angels! Your votes have ensured these talented winemakers each got the $80,000 to craft their dream wine.
Follow them to see their fantasy journey unfold...
Watch the short videos below from our three winemakers, pitching their dream wine.
If you like what you see then vote for them by clicking the big green 'Vote' button.
You can vote once per winemaker (i.e. you can vote for all three if you want!).
If the winemaker receives 2000 votes, they get $80,000 to make their dream wine.
Check out the videos!
When the wine is ready to be sold, every Angel who voted
for it will get first dibs as a thank you for making it happen.
Nina Stocker & Kate Day
An aromatic Alsace-style white blend
The canny Two Pairs fantasy wine is inspired by a mutual love of Alsace in France. Nina was born practically on the doorstep, and Kate has an affinity with the region's food friendly, aromatic and approachable wines - perfectly suited to the Aussie climate and multicultural cuisines.
"We were in two minds whether to do a Riesling or Gewürztraminer" Kate told us "so we decided to do both, and make a perfect "Pair", or blend of the two, creating an aromatic, floral yet textural white wine."
Made to be enjoyed with food or just good company, this Aussie blend will be a delicious drop of fun the girls would choose to drink themselves, and hope you will too!
Paul Byron & Ralph Dunning
A multi-regional blend of Shiraz from the Barossa and the Great Southern region, WA
Growing up on opposite sides of Australia, the hugely experienced Scribe team have developed deep roots in their own regions. Ralph is drawn to the power and full-fruit flavour of a generous Barossa Shiraz. Paul has a real love and appreciation for the cool climate, elegant style of Shiraz from the Great Southern, WA. Over the years they've developed sensational wines from both regions that have been met with open arms by wine lovers both here and overseas.
Presented with the opportunity to create a fantasy wine for the Angels, they thought it would be fun to blend fruit from the two regions into one glorious wine and uncover what the best of the best can create!
Coby Ladwig
A premium sparkling Shiraz from the Great Southern region, WA
Coby wants to create a sparkling Shiraz that showcases the elegant and spicy Great Southern Shiraz in a different light. Taking hand-selected fruit, and putting his trademark skills to work, he'll create a delicious bubbly red that would happily sit on any dinner (or lunch!) table.
He already has the grapes in mind - they're waiting to burst into life in his Mount Barker vineyard. Harvested in early 2022 and bottled around December that year, you'll have to be patient for this one. It's going to need 2 more years to reach its full potential before you can get it!
Here's an update on upcoming Winemaker's Fantasy wines
Kevin McCarthy
A VIC Pinot Noir to rival DRC!
King of Pinot G, Kevin McCarthy from Heresy, looked to his own beautiful vineyard in the Mornington Peninsula for inspiration for his ultimate Pinot Noir. He's aiming to reach the giddy heights of DRC - the most revered Pinot in the world - but you'll have to wait till mid 2022 to enjoy the spoils!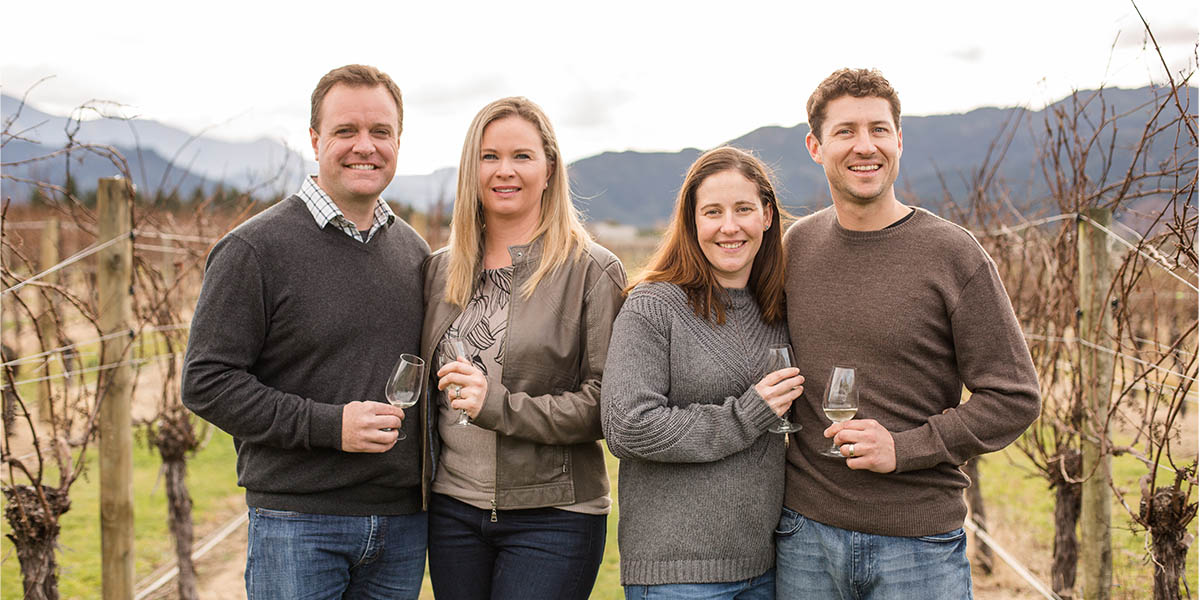 Altschwager & Kenneally
A classy top shelf NZ Pinot Noir
The Altschwager & Kenneally clan were granted the chance to make the Pinot Noir of their dreams in sensational Central Otago in New Zealand. It's arguably one of the most sought after regions on the planet for it! It's now well on its way, so get your glasses ready for a big, rich, sensational Pinot Noir in March 2022.
Gary Stokes
An Italian favourite with an Aussie twist
Well-travelled Gary Stokes got his dream to revisit his beloved Abruzzo in 2019 and craft a silky smooth, delicious Montepulciano red to showcase Old World vineyards with New World winemaking skills. Gary's been busy in Italy ever since. Lucky for us, it's ready to go and due to hit our shores in December this year.
Here's an update on previous Winemaker's Fantasy wines
Stuart Pym
Three magnificent Margaret River Cabernets
Angels granted Stuart's wish to make three separate Cab Sauvs, from three different sub-regions of his beloved Margaret River. Each one will demonstrate the diversity and difference the micro climates have on the flavour of the wine. 2020 was a great vintage - so expect great things when it's released in late 2021!
Rob Paulazzo
A bottle-fermented Tasmanian Sparkling
In 2017, Angels voted for Rob to craft the most premium, bottle-fermented Tasmanian sparkling wine from the classic varieties of Pinot Noir and Chardonnay. Because this is a super-premium vintage sparkling it's a 5 year process, so expect this on the Naked shelves in 2022. It'll be worth the wait!