Welcome to your new favourite place to buy wine
Naked Wines is a customer funded wine business

Our customers fund independent winemakers in return for exclusive access to delicious wines at wholesale prices.
Take our quick survey and get a
FREE $20 wine voucher
Get started now
First, here's three quick questions to make sure we're right for each other...
1. What kind of wine drinker are you?
GREAT! No wine-snobs here. Just regular, everyday wine drinkers.
2. Who would you prefer made your wine?
BINGO! Actual winemakers make tastier wines than supermarket suits.
3. Would you prefer to...?
Sounds like we're going to get along!
As promised, you've earned yourself $20!

Simply enter your email address and click on the green button to claim your $20.
How does Naked Wines work?
Our customers, called Angels, get better wines for less money and the winemaker gets a great deal too: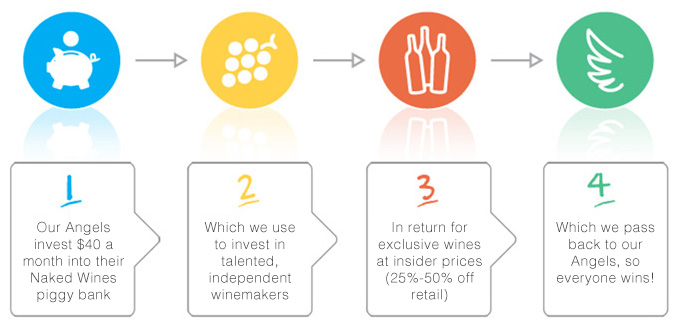 There are NO tie-ins or membership fees. Angels can spend the money in their piggy bank on any of our wines, whenever they want - or get it back if they change their mind.
34 winemakers - over 100 wines
We fund talented Aussie winemakers and give them the freedom to make wines the way they want to.
Like Daryl Groom, once the Head Red Winemaker for Penfolds - where he made world famous Grange.
We also fund smaller winemakers who would struggle to raise the cash to make it on their own, like Adrian & Rebecca Santolin (that's them at the top of the page!)
Get started now
How does Angel investment make wine taste better?
We don't just sell wines, we make them happen.
Since launching in 2012, Angels have helped us fund over $30,000,000 of delicious Aussie wine.
By commiting early and financing the same growers year after year, they can focus on growing quality grapes rather than volume.

Because our growers know that their fruit has been sold upfront, they harvest at the perfect time for ripeness.

We squeeze less juice from the grape so that we get all the fruit and less of the bitter dregs that make cheap wines taste cheap.

We can give nature the time she needs to turn the grape juice into delicious wines, rather than hurry the process with artifical enzymes.

Because we buy barrels, bottles, corks, and labels for tens of thousands of cases we get economies of scale that small winemakers don't.

Because we deliver directly to you, you don't pay for middlemen.
And what do our customers think?
Thank you all for putting some fun back into my wine drinking. No longer will I have to wander the isles of Dan Murphy looking at the same labels.

David, Angel
Seriously, standing ovation!!!! So few companies look after their loyal repeat customers these days. I will never use a bottle shop again!

Dale, Angel
Got my wings yesterday morning - ordered a carton of wine almost immediately. It was delivered this morning at 10:30ish, Now that's service!

Paul, Angel
Get started now with $20 of free wine
Take our quick survey and we'll give you $20 to spend on any 6 bottles.
It's valid against any case of at least six bottles... and you can mix your own!
Get started now
Uh oh! Naked Wines is a snob-free-zone. Our customers are regular, everyday wine drinkers who don't speak in wine-geek. Want to try again?